WHO WE ARE 
So this is usually the place where you ramble on about your whole story, blah blah blah
We have a pretty epic story, and if you'd like to read it, check it out here
In the meantime this is us… an irregular family, living a crazy, frenetic, happy life in Durbs South Africa, making teepees and having fun, along with our favourite Totem Team – Nomsa, Chipo, Simon and occasionally Barbara.
We didn't really have a plan when we started making teepees, and just let it evolve as the demand increased. And that's how we got here, 10 years later, FINALLY getting ourselves a website.
Some interesting facts about Totem Teepee:
•We love what we do. Like we really really really love it!
• 2019 marks our tenth year making teepees! Yay!
• We work from our home, from our converted garage. We don't have a big, grand showroom. Chipo and Nomsa work 5 days a week, and Simon is here part time. You'll find Roy at Shongweni Farmers' Market every Saturday and Wonder Market on the last Sunday of every month, and Tam is almost always at I Heart Market on the first Saturday of every month.
• Our sons are our muses. They're also simultaneously our sweet darlings and sweaty savages. But we love them.
• We like to laugh and don't take ourselves too seriously. And we prefer our team when they're happy. Naturally. So our ladies are regularly invited to tea parties laid on by our oldest son, and Chipo especially is frequently asked to make spiderman masks, fingerless gloves and ninja turtle shells by our youngest son, although we've asked him repeatedly to let her get on with her work!!! (Kids – They just never listen)
Simon is usually muttering under his breath about the hacksaw and sander which have disappeared AGAIN, no thanks to our kleptomaniac sons.
• It took us this long to get a website because we're scaredy cats – that it would be horrible, and it would be too hard to manage. We're still scared, but it's time.
• We have 2 cats and 2 cockatiels. An unlikely menagerie which is working so far #HoldingThumbs
Jett, one of our cockatiels, sits on Nomsa's shoulder for long periods during the day. She LOVES him!  Our ladies really are part of the family!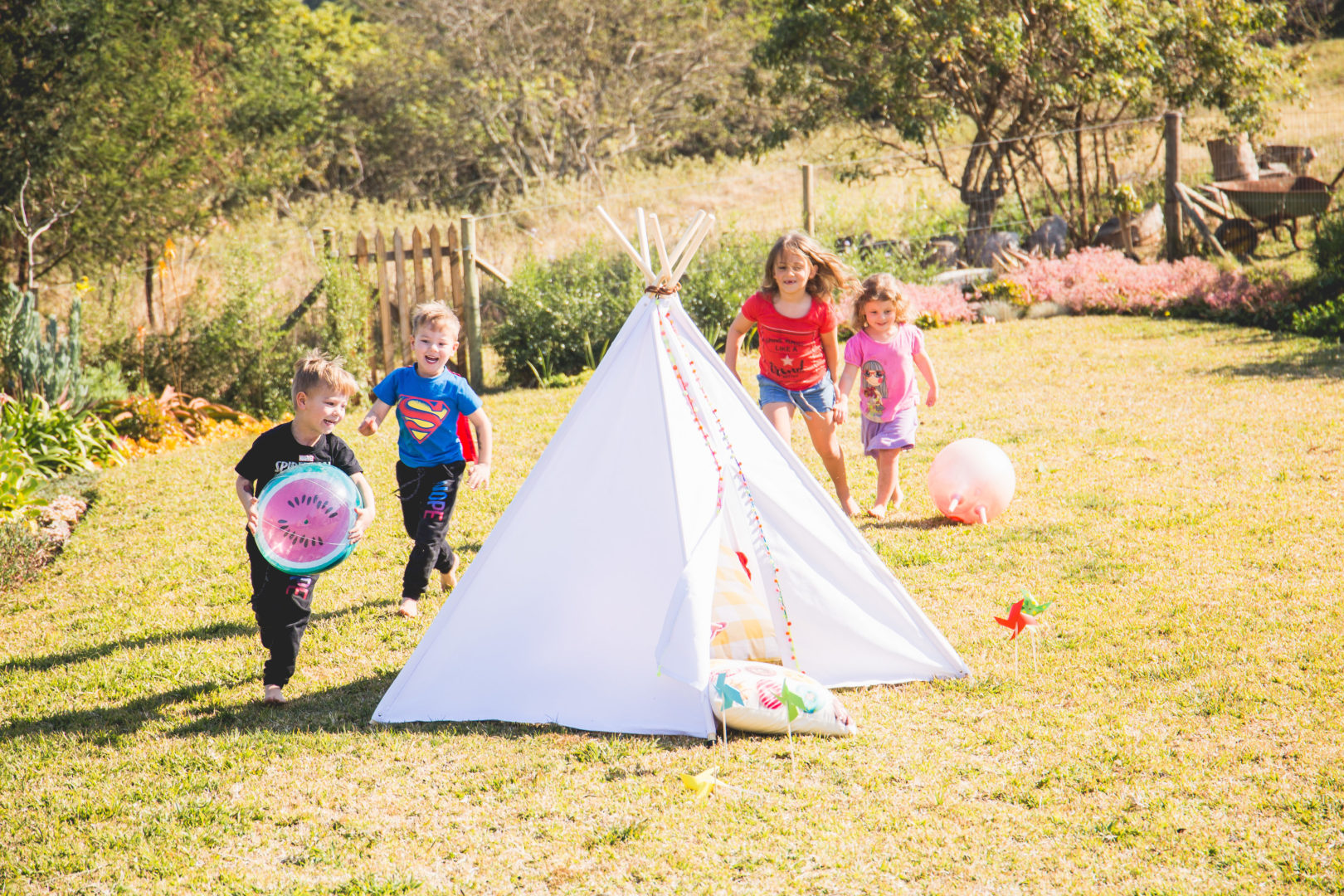 Totem Teepees are incredible toys – they inspire imaginative play and magically whisk children off to worlds they can only dream of.
We believe in our teepees. We believe in the benefits of a child's very own play space. Teepees are not just meant to look great in a perfectly Pinterest worthy playroom…they have a function – and that's what drives us. We know how beneficial teepees are, and that's why we make them. For you. For your children.
Our teepees are also endorsed by occupational therapists, teachers, speech therapists and doctors. And parents, aunts, grans, heck even our cat has given our teepees the paws up. But seriously: Totem Teepees create cocoon like spaces for overwhelmed children to escape from the chaotic activity they're faced with in most school and home environments. They're a great place to curl up quietly with a book too. Legend has it that Totem Teepees are often used as headquarters for spy meetings, weird and wonderful board games, taming tigers, and keeping angry pet dragons calm and hidden away from scowling moms(just like the mom in ET)
If you haven't got a Totem Teepee, are your children even living?
Totem teepees are investments in the future. There are no batteries, there's no plastic, and they're completely made by hand by our little team. Your Totem Teepee will last your childrens' entire childhood and could be handed down to their children. That's pretty awesome!
They're what we call open ended toys and if we haven't convinced you to get one by now what will?
Anyway, I wasn't supposed to ramble, yet here I am… so – check out our website.
Please notice the happy childrens' faces, appreciate the incredible photos we've showcased, and then hit that 'add to cart' button. You know you want to! 
Nomsa
What a lady. She's constant, hard working, loves my sons as her own, and her extra special talent is being able to find ANYTHING. And trust me when you work from home which can be a cramped space, that's a BIG skill!!!! Nomsa is in charge of fabrics: Sorting, packing, rolling and washing. And she picks up the slack when Chipo is not keeping up, in addition she irons every single teepee.
Also, our lovely Nomsa makes her now famous #NomsPoms – these are pom pom teepee toppers which she makes for us to sell at our local markets. We provide the yarn for these, and Nomsa gets 100% of the money from the sale of these gorgeous homemade decorations. At Totem Teepee, upskilling and empowering our staff where we can, is just as important as putting a meal on our own table. Nomsa has taught herself how to make the NomsPoms, and her 4 grandchildren whom she is the sole provider for, all craft and crochet these poms together. We think she rocks!
CHIPO
Our dear Chipo is a Zimbabwean mom of 2 primary school aged children. She started on a flexible basis and very soon was working full time, and we've not looked back. Happy, willing and an eager learner, Chipo is part of our family. We met her when her daughter and our son were in preschool together. We also attend the same church as her. Since we work from home, it's important for us to have staff members who are welcome in our space, and feel at home, and ours do! Our children arrive home from school and run to say hello to Chipo every day, she is well loved and a valuable member of our team.
SIMON
This kind and gentle natured man began as our gardener. We saw he was far more capable than what he was doing and so we employed him another day to help with Totem Teepee. He now prepares the poles. He bundles them in fives, trims them to the same height, and sands the ends, to prevent nasty splinters. Then he warms up every rubber ferrule and pushes it onto the end of the poles (that's the stopper to keep the feet of the teepee clean and prevent damp being absorbed when it's out outside.)
He also helps the ladies with fabric, when there are 100m rolls of fabric to be moved, rerolled and cut – he's our muscles and we love him. No job is too big or too small for Simon.
BARBARA
Occasionally the work load just gets too much to handle, and that's when this lady steps in – Barbara, also from Zimbabwe, is always on hand to join our team, on a seasonal basis, when we can't keep up with the workload. Her skills are exceptional. She has graciously taught Chipo on the job, and has even set aside her work at times to whip up last minute school dress up costumes for our sons when the need arrives. Our sons are also very good at sneakily getting her to fix their favourite items, and make fingerless gloves, spiderman masks, ninja turtle shells among other things.
Albert Einstein
" Play is the highest form of research "